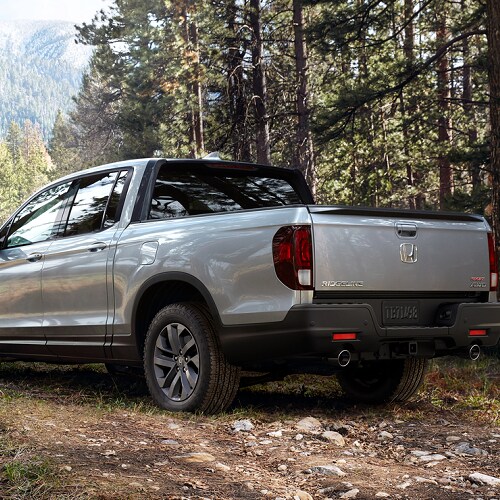 An Off-Road Machine
---
The 2021 Honda Ridgeline comes standard with all-wheel drive, and the adaptability makes it perfect for heading off of the beaten path. Plus, with it's elevated ride height, tough wheels and all-terrain tires, the Ridgeline can handle whatever you throw at it.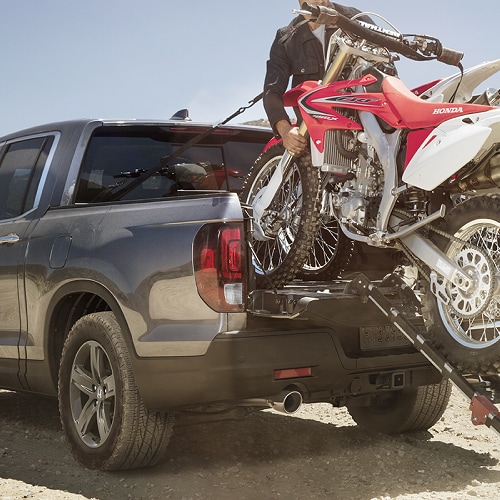 Space in the Back
---
The bed of the 2021 Honda Ridgline is 64 inches long and 60 inches wide at its widest point, so you'll never have any trouble hauling lumber, dirt bikes, camping gear, or whatever else you might need to carry around back there.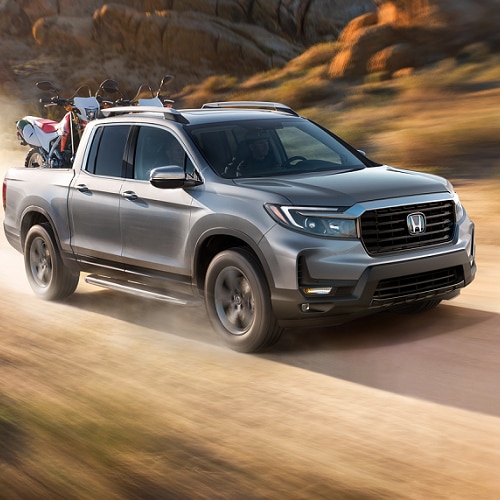 Dual-Function Tailgate
---
Accessing cargo is easy with the dual-action tailgate on the 2021 Honda Ridgeline. Fold it down like a traditional tailgate, or swing it open like a door so you don't have to reach over the gate to access your cargo.
Powerful LED Headlights
---
With the LED headlights at the front of the 2021 Honda Ridgeline, you can light up your nighttime surroundings with incredible clarity. You'll be able to see shapes and colors clearly from behind the wheel, giving you a depth of vision that makes nighttime driving safer than ever.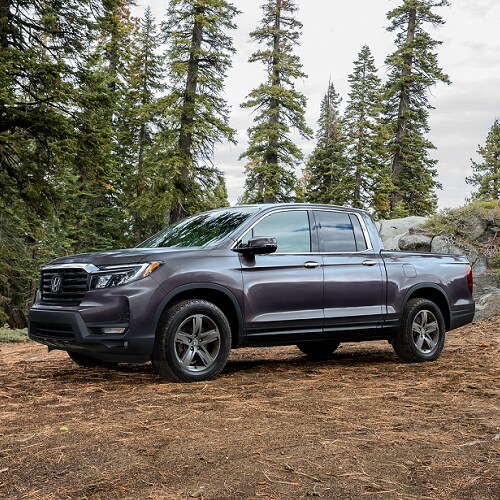 Designed with Adventures in Mind
---
With an approach angle of just over 20 degrees and a departure angle at 19.6 degrees, you can conquer steep grades and changing inclines without worrying about scraping a bumper or dragging the tail along the ground.
Power Under the Hood
---
The 2021 Honda Ridgeline comes with a 3.5-liter V6 engine that churns out 280 horsepower and 262 pound-feet of torque. That is plenty of punch to help get things moving, and it comes without the costly fuel burn of competing V8 engines.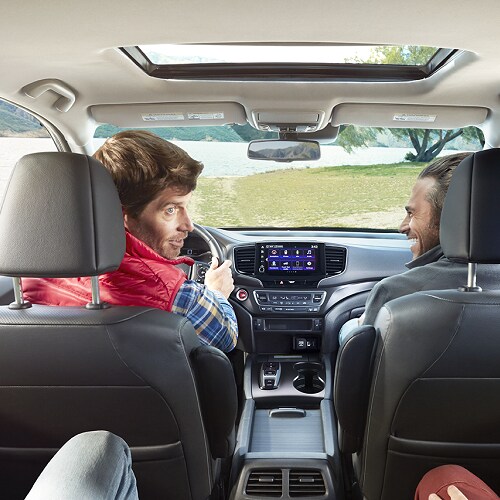 Amp Up Your Travels
---
Thinking of bringing a boat along for your next family road trip? The 2021 Honda Ridgeline offers up to 5,000 pounds of towing capacity so you can bring that boat, a camper, or a pair of ATVs with you when properly equipped.
Honda Sensing
---
The Honda Sensing™ suite of driver assistance features is standard on the 2021 Honda Ridgeline. This comes with forward collision alert, pedestrian detection, automatic emergency braking, and lane-keep assist to help make you a better, more safe driver.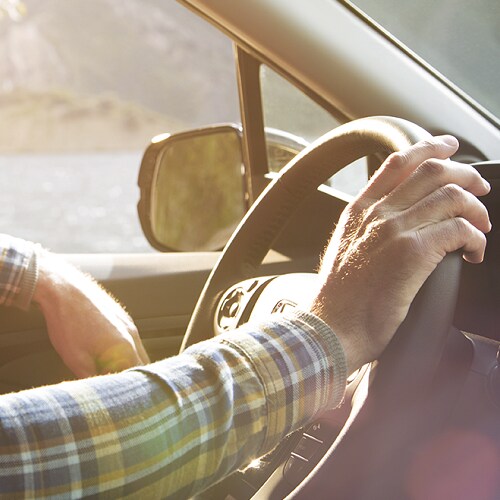 Always Find Your Way
---
The new Honda Ridgeline comes with built-in navigation to help you even when you're well beyond cellular range. This satellite-linked system can help you find your way back to civilization no matter where your journey takes you.
Manage Traffic with Ease
---
The 2021 Honda Ridgeline features adaptive cruise control that reads traffic ahead, and automatically slows you down to maintain a safe following distance. It also works as a traditional cruise control when traffic is clear, giving you a safe, relaxing highway drive.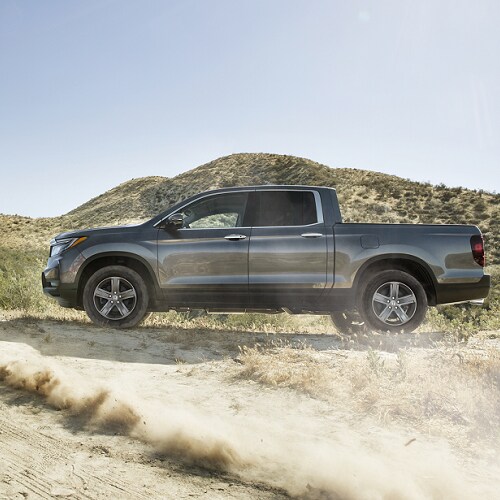 Comfort Inside
---
The new Honda Ridgeline offers spacious seating for five, so you can bring the whole family along for the ride without anyone feeling cramped. Plus, you'll get features like heated front seats and automatic climate control for even greater comfort as you travel.
Entertain at the Campsite
---
The 2021 Honda Ridgeline even comes with an in-bed audio system that allows you to use your truck as a mobile stereo system, perfect for entertaining at a campsite party or tailgate.